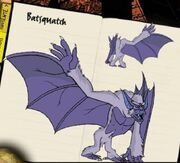 The Batsquatch resides in the mountains of the Mt. St. Helens. It has purple skin, leathery wings, blood-red eyes, and a head that looks like a combination between an ape and a bat. This omnivorous, winged primate has been falsely accused of local farm killings. There are no accounts of it being fully carnivorous, or dangerous. The best evidence was a few photographs taken in 1995. The photographs show the long, strong wings and primate body. To make this creature flight-worthy, it would either have to be light-weight and hollow-boned, or
something else.
Ad blocker interference detected!
Wikia is a free-to-use site that makes money from advertising. We have a modified experience for viewers using ad blockers

Wikia is not accessible if you've made further modifications. Remove the custom ad blocker rule(s) and the page will load as expected.