Calopus


Vital statistics
Species
Calopus
Habitat
Indonesia
Java
Type
Wolf
Abilities
First appearance
Life in the Underground
The Calopus is a wolf-like cryptid with serrated horns on its head and orange fur. It made its first and only appearance in Life in the Underground.
Biography
The Calopus appears to have a snout like a hog, and the mane of a goat with a tail of a fox, with clover-like feet in the front half, and lion-like feet in the back. Its origin is from ancient Babylon and there have been sightings along the Euphrates River. It is related to a couple of creatures from that era. In the episode, it too was making an alliance with the other cryptids to hide from Kur.
Series
Gallery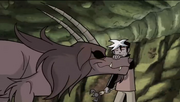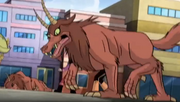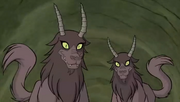 Ad blocker interference detected!
Wikia is a free-to-use site that makes money from advertising. We have a modified experience for viewers using ad blockers

Wikia is not accessible if you've made further modifications. Remove the custom ad blocker rule(s) and the page will load as expected.