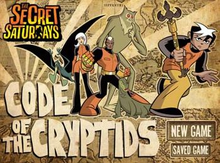 Code of the Cryptids is one of the Secret Saturdays games on CartoonNetwork.com When you complete it you get a wallpaper that has the Saturdays, Owlman, Honey Island Swamp Monster , Biloko , Duah (Ropen) Bishopville Lizardman , Chupacabra , Cherufe. Game has three different areas. Each area has 10 levels then a boss. Area 1 ends with Van Rook, Area 2 with Munya, and Area 3 with Argost. You have to collect 4 artifacts from each level except for the boss level. You have to get all the powers to get all 60 artifacts. The only powers you have in Area 1 Level 1 are:
Z+X=jump attack
Z=jump
X=attack
You also have to attack: The Popobawa, Flashlight Frog, Cryptid Plants, Munya, V.V. Argost, Van Rook and Olgoi khorckhoi.
Trivia
They're also unidentified snake cryptids that can easily be defeated by blocks if they get crushed or run into it.