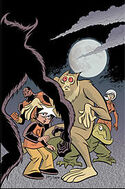 Story Information
Source: Cartoon Network Action Pack #29
Available: September 2008

Summary
The Saturdays travel to Russia's Republic of Kalmykia to track down the legendary Kalmykian Snakes. They are attacked by the snakes which destroy the Fiskertrike, their only means of transportation.
Unable to reach the Airship by nightfall, they walk to a nearby farming village to stay the night. Upon arriving, the villagers at first mistake Fiskerton for a Wawkalak, a Russian werewolf.
As Zak tries to calm down the villagers a young boy, Vladimir, runs out with his camera excited at the prospect of seeing a monster. He tells the Saturdays that the local farms are terrorized by a pack of Wawkalaks that are descended from the Chonos, or Wolf Tribe, one of the first tribes to join Genghis Khan.
The Saturdays and Vladimir head out to investigate. That night their camp is attacked by an Almasti. Doc and Zak try to hold off the Almasti when Chonos Khan and his motorcycle gang arrive. They're not happy with outsiders trying to steal their Wawkalak and a fight ensues. Doc unleashes Fiskerton from his tent which scares off the gang. Doc then lands a blow that knocks out Khan. The Saturdays use the gang's motorcycles to return to the airship.
Appearances
Main Characters
Supporting Cast
Cryptids
Locations
Vehicles