Cryptipedia is a portable computerized catalog of cryptids, sometimes called "CP" for short. The device can analyze a nearby cryptid to help the user determine what it may be.
Doc Saturday wears one on his wrist.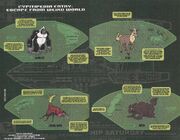 The CP displays an image of the cryptid and some basic information on it. such as habitat, and any images from human mythology, Like in the Ki-Lin in the image on the left.
The CP displays a curved banner, like most of the Saturday's tech, and it could be eddited when needed. In The Kur Stone Part One Doc is seen measuring a flashlight frog's eyes, so it could be possible that the CP can be updated by certain people, and in Part Two Doc mentions cryptozoology databases, so the reference materials could be both first hand recordings, and research from books and other third parties.