Deadbolt

General Information
Species
Robot
Age
Does not age
Occupation(s)
Dr. Grey's assistant
Powers and Abilities
Abilities
Shoot missiles
Equipment
Hoverboard
Relationships
Relatives
Miranda Grey (Creator/master)
Details
Voice Actor
None
First Appearance
The Kur Stone:Part One
Deadbolt is the robot assistant to Miranda Grey. 
Biography
A running gag in the series is that Deadbolt is destroyed in every episode it shows up in, and it was revealed by Miranda in Legion of Garuda that it costs 37 million dollars to repair Deadbolt. Deadbolt is upgraded in each episode it appears in.
Upgrades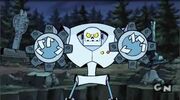 Extra Durability
Missiles
Hoverboard
Series