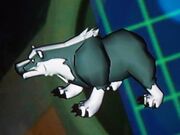 The Garta is a bear-like quadruped that is marked like a skunk. It made its first appearance in The Return of Tsul 'Kalu and later appeared in the video game "The Secret Saturdays: Beast of the 5th Sun".
Biography
It has six inch claws that it uses to dig holes in the ground and attack other predators. It is related to badgers and weasels but is the size of a bear. This honey badger like creature has been known to attack humans. The British government have (supposedly) captured and sustained many of these creatures.
Series
Ad blocker interference detected!
Wikia is a free-to-use site that makes money from advertising. We have a modified experience for viewers using ad blockers

Wikia is not accessible if you've made further modifications. Remove the custom ad blocker rule(s) and the page will load as expected.