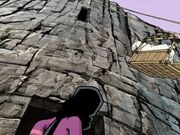 Goat is a hooved domesticated animal seen in episode
Curse of the Stolen Tiger
riding a lift. Komodo takes a particular liking of wanting to eat it. It's blood if the diet of the Chupacabra. there are cryptids similar to it in Baron Finster's Research Facility.
Ad blocker interference detected!
Wikia is a free-to-use site that makes money from advertising. We have a modified experience for viewers using ad blockers

Wikia is not accessible if you've made further modifications. Remove the custom ad blocker rule(s) and the page will load as expected.