The Goayr Heddagh is a cryptid that only appeared in the video game, The Secret Saturdays: Beast of the Fifth Sun.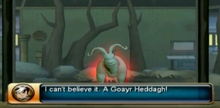 This cryptid is said to live in the mountains and lets off a ghostly glow with an eerie luminescence. It is said to trick climbers by dimming its glow and making parts of the mountain appear as if they're not there. The goayr heddagh has been heard of in manx mythology and seen in the isle of man. the goayr heddagh seems to have psychic powers.
In the video game, it can change colors, alternating between Red and Blue; one of these colors has a psychic power.
Ad blocker interference detected!
Wikia is a free-to-use site that makes money from advertising. We have a modified experience for viewers using ad blockers

Wikia is not accessible if you've made further modifications. Remove the custom ad blocker rule(s) and the page will load as expected.