Green Goon


Vital statistics
Species
Green Goon
Habitat
Abilities
First appearance
Ghost in the Machine
Green Goon (Chorocebus sabaeus americanumeniods) was a former human. It made its first and only appearance in Ghost in the Machine.
Biography
What was once a human until he became one of the victims of Basil Lancaster's and Dr. Lee's cryptid super soldier experiments.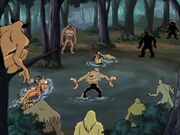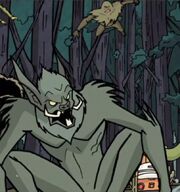 Series
Ad blocker interference detected!
Wikia is a free-to-use site that makes money from advertising. We have a modified experience for viewers using ad blockers

Wikia is not accessible if you've made further modifications. Remove the custom ad blocker rule(s) and the page will load as expected.