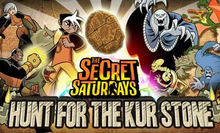 Hunt for the Kur Stone is an online Cartoon Network game in which you need to click for three or more identical cryptid icons in a group in order to get points. You will pass a level when you get enough points for every cryptid. Cryptids Icons are Kumari Kandam Sea Serpent, Duah (Ropen), Popobawa, Cherufe, Rakshasa, Tapire-lauara, Hibagon, Alkalai Lake Monster and Amarok.
Combos and Trophies
Clicking multiple groups in a timed succession will create combos to get you a higher score. If you get a certain amount of cryptid icons in one move you will get 9 cryptid trophies. In order to get the other 6 trophies you need to perform task such as pass level 15 with no powerup's or activate the Kur stone and more.
Powerups in the game
Different types of powerups become available as you pass certain levels.

Fiskerton powerup add's time.
Komodo powerup changes color and if you click on it when it is in a certain color it will alluminate every Cryptid icon with same color (point will be added).
Doc power alluminates annalides a block that prevent more cryptid icons appearing in certain place's.
Drew powerup eliminates every icon in certain radius
Zak powerup organizing icon in groups by a species.
Kur stone powerup eluminates every icon but in order to activate it you need to collect all three kur stone pieces.
Cryptids
Fiskerton Phantom
Living Ornithocheirus
Ad blocker interference detected!
Wikia is a free-to-use site that makes money from advertising. We have a modified experience for viewers using ad blockers

Wikia is not accessible if you've made further modifications. Remove the custom ad blocker rule(s) and the page will load as expected.