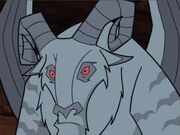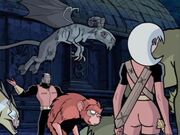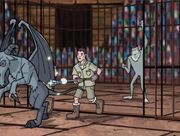 The Jersey Devil was first seen in the episode Cryptid vs. Cryptid. Van Rook was keeping it for cryptid battles. It is first seen in the episode being taken away from Fiskerton after defeat (the battle itself never was seen). Apparently they fly most of the time. The jersey Devil has also been named the Leeds Devil for the encounter it had on the Leed's family. The legent goes that a large family known as the Leeds were stationed outside the swamps of New Jersey. The wife was almost ready to deliver her 13th child. She was so enraged with the father that she wished it was a devil. The night came when she was delivering the child and it was stormy and gloomy outside. The baby was delivered and it looked normal. All of a sudden, the baby began to morph into a mishapen creature. It started to attack the younger children and mother. Then it flew out the chimney and resided in the swamps of New Jersey. It is seen in "War of the Cryptids' fighting on Zak's side.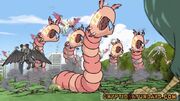 This link shows a design that the creator Jay Stephens drew in his sketch book. This design did not appear in the series a different one did.

In the Cartoonnetwork game Fusionfall, an exclusive item in the Birthday Bash event was the Jersey Devil Wings.
Despite being one of the most recognizable cryptids in the world, the Jersey Devil only appeared twice in the entire series as a background character.