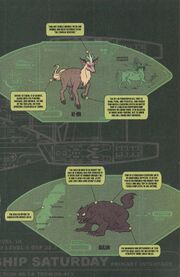 Ki Lin is a mythical deer like creature of China and only appeared in Cartoon Network Action Pack #36: Escape from Weird World .
Ki Lin is a chinese version of a unicorn. The ki-lin is one of the legendary ssu long. They are the beast of the cardinal points of Asia. The ki-lin is a sign of peace and the purest good. They are said to be so gentle that they crush no living thing, and leave no footprint. It harms no good, but crushes all destruction.
Real World
The Ki-Lin (Kirin in Japanese, Qilin in Chinese) is a fearsome-looking creature, but only punishes wicked people, it is also a pet of Chinese gods.
In Japanese art it looks more deer-like, which is how it is depicted in Excape from Weird World. In it's native China, its look differs from era to era, and even region to region, but most statues have the Quilin looking like either a big cat or a dragon.
Gallery
Ad blocker interference detected!
Wikia is a free-to-use site that makes money from advertising. We have a modified experience for viewers using ad blockers

Wikia is not accessible if you've made further modifications. Remove the custom ad blocker rule(s) and the page will load as expected.