Lake Van Monster


Vital statistics
Species
Lake Van Monster
Habitat
Abilities
First appearance
The Unblinking Eye
Lake Van Monster is a reptilian creature inhabiting salt waters of Lake Van (Turkey Republic). It made its first and only appearance in The Unblinking Eye.
Biography
It is carnivorous and feeds on fish. Fiskerton is scared of it because of it's title "monster". She is actually a very sweet and peaceful cryptid, compared to her title "monster".
Series
Zak helps her find a new place to live.
Gallery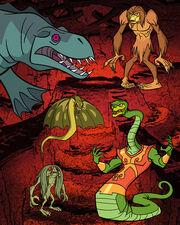 Ad blocker interference detected!
Wikia is a free-to-use site that makes money from advertising. We have a modified experience for viewers using ad blockers

Wikia is not accessible if you've made further modifications. Remove the custom ad blocker rule(s) and the page will load as expected.