Naga Kanya


Vital statistics
Species
Naga Kanya
Habitat
Abilities
First appearance
The Atlas Pin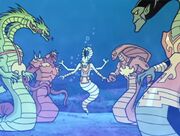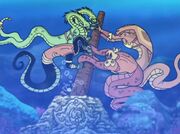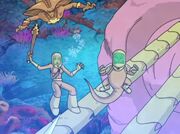 The
Naga Kanya
appears to be a hybrid between human and cobra. It made its first appearance in
The Atlas Pin
Biography
The Naga Kanya is one of the nagas in allegiance with Rani Nagi. This naga is orange in color and wears red and gold arm bands, and a gold chest plate. This naga has a cobra hood, and seems to be the only naga with one.
Series
Quotes
"The Nagas are as ever in the service of Kur."
―in Kur:Part One.
"The loyal ones will always know."
―in Kur:Part One.
Trivia
His name being Naga Kanya is quite ironic, because the word Kanya means Girl in Hindi.
Ad blocker interference detected!
Wikia is a free-to-use site that makes money from advertising. We have a modified experience for viewers using ad blockers

Wikia is not accessible if you've made further modifications. Remove the custom ad blocker rule(s) and the page will load as expected.