Rhinoceros Dolphins


Vital statistics
Species
Rhinoceros Dolphins
Habitat
Abilities
First appearance
The Underworld Bride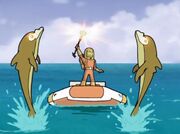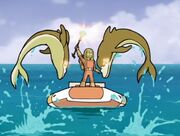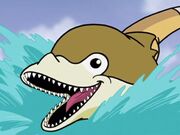 Rhinoceros Dolphins are fabled by fisherman to have two dorsal fins. They made their first and only appearance in The Underworld Bride.
Biography
Physical Appearance
They are about as big and long as normal dolphins They have sort of a horn-like nose, like a dolphin. They also have two dorsal fins. They are yellowish-greenish.
Series
The dolphins are used for practice in Zak's cryptid power training. According to Ulraj, they are natural show offs and love to dance. They might just be a mutation.
Known Relatives
Giglioli's whale is a whale with two dorsal fins. Like the Rhinoceros dolphins. It is unknown if they will appear in the series. Most likely not.
Diet
Fish: Ulraj gets back at Zak by throwing a fish into the water that makes the dolphins go after it.
Trivia
Ad blocker interference detected!
Wikia is a free-to-use site that makes money from advertising. We have a modified experience for viewers using ad blockers

Wikia is not accessible if you've made further modifications. Remove the custom ad blocker rule(s) and the page will load as expected.