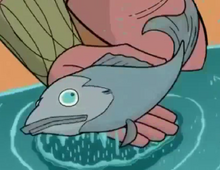 Atlantic cod ,gadus morhua, has seen at the episode Van Rook's Apprentice being fed to Zon. Ulraj , in the episode The Underworld Bride , uses this fish to distract the Rhinoceros Dolphins. In episode The King of Kumari Kandam in Ulraj's flash back you can see: Bennett butterfly fish , Melas Angelfish , Singapore angelfish swimming along with a mako shark and lesser manta mobula hypostuma .In the Cartoon Network Action Pack # 26 The Cannibal Curse in scene where Doc dives to study dolphin on remained you can see tilapia fish swiming in background, you also can see Fisk looking at queen angelfish.
Ad blocker interference detected!
Wikia is a free-to-use site that makes money from advertising. We have a modified experience for viewers using ad blockers

Wikia is not accessible if you've made further modifications. Remove the custom ad blocker rule(s) and the page will load as expected.