Story Information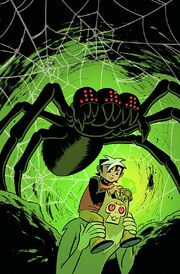 Source: Cartoon Network Action Pack #39
On sale: July 9 2009Cover by Jay Stephens · Written by John Rozum
Summary
Saturdays find themselves in trouble when the caretaker of the spider cryptid called the Cacus has died. A recent abundance in cattle deaths brought attention to the Saturdays. The town sheriff tells them about the recent death of an old man. He never talked to anyone. The Saturdays check out a cave near the old man's house. It was littered with gold and jewels. It turns out that the old man was the caretaker and when he died, the spider was left to fend for itself. The Saturdays and the sheriff agree to use the money to feed the Cacus for the rest of its lifetime.  
Appearances
Main Characters
Doc Saturday
Drew Saturday
Zak Saturday
Fiskerton
Komodo
Zon
Cryptids
Locations
Italy
Vehicles
Ad blocker interference detected!
Wikia is a free-to-use site that makes money from advertising. We have a modified experience for viewers using ad blockers

Wikia is not accessible if you've made further modifications. Remove the custom ad blocker rule(s) and the page will load as expected.