Tirisuk


Vital statistics
Species
Tirisuk
Habitat
Type
Centipede
Abilities
First appearance
The Kur Stone:Part One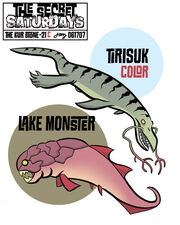 Tirisuk is a giant arctic Liopleurodon-like creature first seen in photographs in The Kur Stone:Part One.
Biography
It has also been seen as a centipede-like creature. It is supposed to live in Alaska and Canada and is often mentioned in Native Americans myths and legends.
Series
Ad blocker interference detected!
Wikia is a free-to-use site that makes money from advertising. We have a modified experience for viewers using ad blockers

Wikia is not accessible if you've made further modifications. Remove the custom ad blocker rule(s) and the page will load as expected.