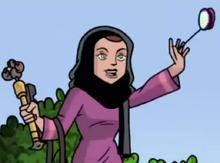 "So basically you made your own claw"
Wadi's Yo-Yo is a purple with light green yo-yo.
Wadi uses it to grab objects from a distance, pull herself up a steep surface, does tricks with it, and even uses it to defend herself. She also uses it as a weapon, as seen in Life in the Underground and War of the Cryptids. It's similar to The Claw and she sometimes uses it to steal things from afar (e.g. the belt and Zak's Claw) and to climb (as Zak).
Appearances
Ad blocker interference detected!
Wikia is a free-to-use site that makes money from advertising. We have a modified experience for viewers using ad blockers

Wikia is not accessible if you've made further modifications. Remove the custom ad blocker rule(s) and the page will load as expected.